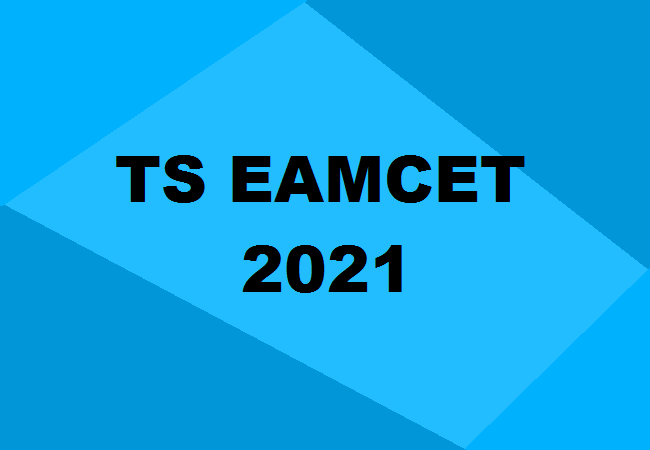 The Telangana State Engineering, Agricultural and Medical Common Entrance Test is one of the most popular entrance tests in the country. It has offered the opportunity to students in Telangana to pursue excellent careers in science and engineering. After applying for this test, you can secure qualification in Government colleges in Telangana in the science department. It is a State level Test held in the online mode. The Application fee for the entrance test is Rs 800 for Unreserved Applicants. Reserved Applicants belonging to Scheduled Castes and Scheduled Tribes have to deposit an application fee of Rs 400. The duration of the test is for 3 hours. Following are some relevant information that you need to have an idea about if you are interested in applying to TS EAMCET 2021-
Important Dates related to the examination
For the TS EAMCET 2021 examination, the important dates and scheduling of the examination have already been released online. You can see them upon visiting the official profile of the Common Entrance Test platform. Following are some of the important dates released in this regard-
Commencement of Submission of Online Applications
20-03-2021
Last date for submission of Online Applications without Late Fee
18-05-2021
Correction of Online Application data already submitted by the candidate
19-05-2021 to
27-05-2021
Last date for submission of Online Applications with Late Fee of Rs. 250/-
28-05-2021
Last date for submission of Online Applications with Late Fee of Rs. 500/-
07-06-2021
The download of Hall Tickets from the websitea) Start
b) Finish
17-06-2021 to
01-07-2021
Last date for submission of Online Applications with Late Fee of Rs. 2500/-
17-06-2021
Last date for submission of Online Applications with Late Fee of Rs. 5000/-
28-06-2021
Date & Time of TS EAMCET-2021 Examination
Forenoon (FN) :
09.00 AM to 12.00 Noon
&
Afternoon (AN) : 03.00 PM to 06.00 PM
05-07-2021
(FN & AN) 06-07-2021 (FN)
07-07-2021
(FN & AN)
08-07-2021
(FN & AN)
09-07-2021 (FN)
Eligibility Criteria
The following eligibility criteria must be maintained so that the candidate can understand whether they are qualified for the tests. Then they will also understand how much percentage they need to obtain to pass the test at one go-
Nationality
The candidate appearing in the examination should be an Indian National. He must have Indian Citizenship. He must be residing in India and must have a habitual location in this part of the world.
Also read: A Complete Guide on the Career Options in Cybersecurity: What MLRIT has to Offer to you?
Domicile
Priority is given to the students who belong to the state of Telangana. Although students from other regions are also admitted. But the criteria for their selection is different as the number of seats for them is less.
Age Limit
There is no upper limit if age required for appearing for the examination and securing qualification subsequently. They should be at least 16 years of age. This age is the criteria required for sitting for the examination.
Educational Qualification
The candidate appearing for the examination must be a higher secondary pass student. This means that he must have completed his class 12 education. Moreover, he should have a hand in Mathematics, Physics and Chemistry as part of his curriculum.
Minimum Marks Required for Appearing
To appear for the TS EAMCET examination a General Candidate must have 45% marks in the higher secondary examination. On the other hand Candidates with SC-ST certificates must have 40% marks in the higher secondary examination.
Steps in the Registration Process of TS EAMCET 2021
There are three simple steps in the process of registering for the examination. They are-
Paying the requisite application fee and then depositing it. The deposit must be made in the designated bank account.
Filling out the registration form. It will contain your details and the details of the examination you are appearing for.
Finally, taking out a printout of the page confirming the registration fee transfer.
Important Exam Centers
Following are some of the important examination centers that have been set up-
Hyderabad
Nalgonda
Kodad
Khammam
Sathupally
Karimnagar
Warangal
Guntur
Exam Pattern
The exam pattern for TS EAMCET 2021 is as follows-
Subjects- Mathematics- 80 marks, Physics- 40 marks and Chemistry- 40 marks
Marks Distribution- 160 Marks
Question Type- MCQ (1 Marks Each)
Conclusion
Upon securing qualification the student will get a chance to study in a reputed educational institution in the state of Telangana. The minimum qualifying percentage for students with reservations is 25%. The rest of the standard marking systems are applicable for general category students. The students would be informed later about the results and the subsequent counseling dates at colleges. Grab the latest update of TS EAMCET 2021 here.
We being one of the best colleges in Hyderabad offers aspiring engineering to upscale in innovations and work on a wide range of project and gain vast knowledge on the same. Know more about us here.